About Us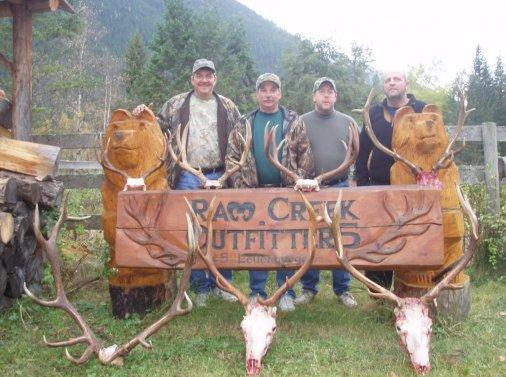 Ram Creek Outfitters has been in operation since 1976, as a part of the Leuenbergers' Big Horn Outfitters and has a long, family history in the guiding industry. Originally established by Heinz and Carol Leuenberger, Ram Creek Outfitters is now being operated by Heinz and Carol's youngest son Steven ,and his wife Stefanie.
Steven and Stefanie are proud of the reputation for quality hunts that Heinz and Carol worked so hard to achieve and continue to maintain those standards and quality of service.
Ram Creek camp is an oasis of comfort after a long day in the mountains. Hot running water, delicious food, conversation and comfortable beds can all be found in abundance. The guides have separate accommodations in " Chateau le Grunge". A three hour horse ride will bring you to another small log cabin. Both of these camps have barns and corrals so the horses are ready when you are. Spike camps are also used for remote and inaccessible areas.
The Ram Creek territory is located in Southeastern British Columbia in the heart of the Rocky mountains. This area is noted for several things: abundance and quality of wildlife, very low resident hunting pressure and high, rugged mountains! The horses in the Ram Creek string are sure footed and well mannered, but they can't fly, so be prepared to walk at least some of the time. The quality and enjoyment of your hunt, as well as your chances for success, will be largely dependent on your physical condition.
Your hunt in Ram Creek will be a classic hunting experience as you and your guide test your skills against those of your quarry. Low resident hunter pressure means that there won't be any foot races up the mountain or animals shot out from under you. You won't be spending time in a truck cruising roads or stump hunting the valley bottoms, you will be on the mountain in the midst of the action. Your guide will give one hundred and fifty percent to make your hunt as enjoyable and successful as possible. To a man, this is a group that is young, gung-ho and very knowledgeable in both the area and the wildlife. Experienced hunters themselves, no guide will try to " walk your buns off".
In hunting, there are few guarantees that can be made without your nose growing. One guarantee that Ram Creek Outfitters will make, however, is that the service you receive will be unsurpassed by any other outfitter. SERVICE HAS BEEN, AND WILL ALWAYS BE, THE CORNERSTONE OF RAM CREEK OUTFITTERS. It starts with Steven and Stefanie and carries through to every employee of the outfit. These are down to earth people who love the simple things of life. They will share with you the very thing that makes their lifestyle so rewarding and unique. From the time you step off the plane, to each day of hunting and evenings of camaraderie around the campfire or kitchen table, you are guaranteed to take home unforgettable memories of a great Ram Creek experience.
All prices quoted in US Dollars
5% - GST not included
50% non-refundable deposit required
Balance due 60 days prior to hunt
Licence and tags not included
Fully Licensed and Insured
PROUD MEMBERS OF:
G.O.A.B.C
SOUTHERN GUIDES AND OUTFITTERS
WILD SHEEP FOUNDATION
GRAND SLAM/ OVIS
MULE DEER FOUNDATION
Safari Club International